Townsville Resurfacing
Townsville Resurfacing Kitchen & Bathroom Resurfacing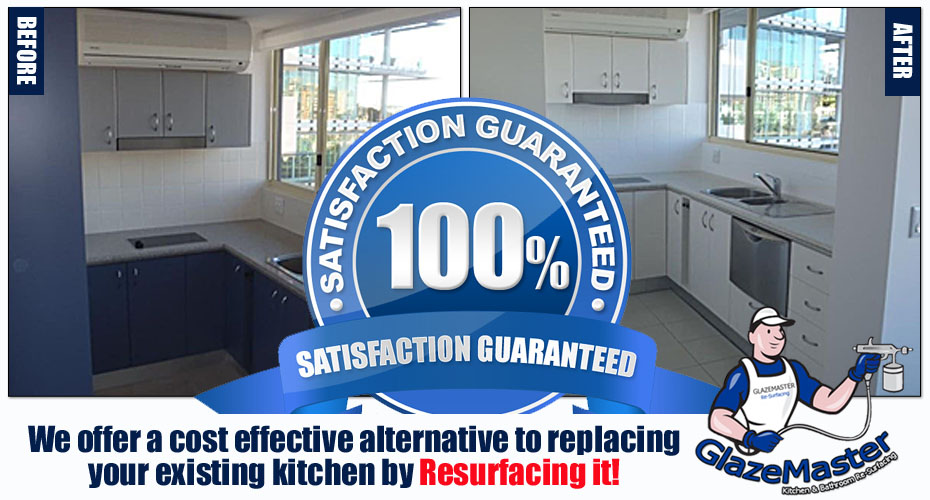 We offer a cost effective alternative to replacing your existing kitchen or bathroom by Resurfacing it!

Townsville Resurfacing GlazeMaster Resurfacing is a National Network of professional Bathroom and Kitchen Resurfacers.

Our unique process and purpose made exclusive materials are used to update wall tiles, baths, spas and shower trays as well as kitchen and bathroom cabinetry, splash tiles and amazing stone look benchtop resurfacing.
Our services are available to the domestic and commercial markets where we have undertaken numerous large scale Resort and Hotel refurbishments over the past 25 years, testimony to the durability of quality resurfacing.

The Resurfacing of your existing kitchen and/or bathroom can save up to 75% in costs as opposed to replacement.

Townsville Resurfacing
Don't replace you old Kitchen simply because it has outdated colors

We can completely Re-Surface your Kitchen including our exclusive Caesar Stone and other specialty stone look Bench Top

Quality 2 Pac finish on Cupboard Doors, Draws, Fixed Panels and Pantry

Splash Back Tiles Re-Surfaced to look like new

Kick Panels Sprayed in 2 Pac or recovered with Brushed Stainless Steel

Our trade qualified technicians will transform your Kitchen to look like new in under 1 week

The specialty coatings we use are extremely durable and designed specifically for use on kitchen and commercial bench tops, vanity tops and other hard surfaces were durability and quality of finish are paramount.

We can save you thousands, even tens of thousands of dollars on Kitchen and Bathroom Renovations.

Our commercial clients are testimony to the quality of our service and products

You can afford that New Look Kitchen or Bathroom you have always wanted

Take the time to look at the before and after photos in our gallery and be amazed at what can be achieved with Re-Surfacing

Find out why Major Hotel and Resort Chains use our services when upgrading rooms!
As Seen on Selling Houses Australia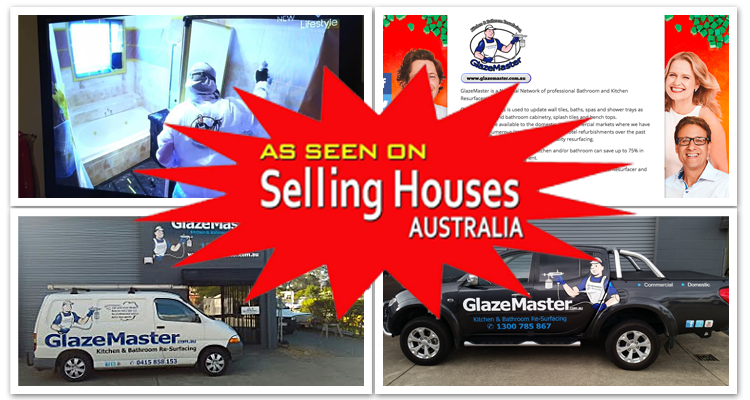 ---
GlazeMaster Australia Resurfacing iwell known as a respected market leader in the Kitchen and Bathroom Resurfacing industry. GlazeMaster is leading the way in providing a level of Quality and long term Durability never before seen in the Australian resurfacing industry. With over 20 years resurfacing experience we have developed complex Resurfacing methods that allow us to reach the highest standards of quality available in Resurfacing today.
Instead of replacing your Kitchen or Bathroom GlazeMaster can Resurface Bench Tops, Cabinetry, Fixed Panels and Splash Tiles, Bath Tub, Spa Bath, Antique (Claw Leg) Baths, Shower Tiles, Wall Tiles, and lots more. Our customers save up to 70% of the cost of conventional Kitchen and Bathroom renovations! GlazeMaster Australia is the Pre & Post Sale Makeover Experts. Don't wait months for three different types of tradies to complete expensive unnecessary renovations. Have your property resurfaced by GlazeMaster and in most cases whole kitchens and bathrooms are finished and liveable within a week!
Work is carried out on-site by our reliable trade technicians in a timely and professional manner. Our services range from Resurfacing a single shower tray through to Resurfacing 4 bathrooms and 2 kitchens in the one residence. GlazeMaster has professionally undertaken many large scale commercial Refurbishments in major hotel and resort chains throughout Australia, because they know as we do. The Bitterness of poor quality remains long after the sweetness of low price is forgotten.
---
RESURFACING QUOTE